Copper-Phosphorus and Copper-Phosphorus-Silver alloys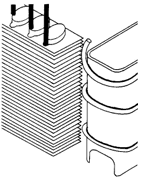 SOLDARGEN 100
Exclusive autocleansing alloy for brazing with Copper and its alloys
International Standard
| | |
| --- | --- |
| ANSI / AWS | : A5.8 - 92 |
| AWS | : B Cu P-2 |
Technical Features
Melting range

: 710 - 793 ºC.

Tensile strength (Uniones Cobre-Cobre )

: 25,5 Kg/mm2.

Stretching

: < 5 %

Density

: 8 gr/cm3

Recommended joint clearance

: M ín. - 0,03mm
Máx. - 0,10mm
Chemical Analysis (%)
| | |
| --- | --- |
| P | : 7 - 7,5 % |
| Cu | : Balance |
Special Features
SOLDARGEN 100. This alloy is a specifically formulated for low temperature brazing. Easy applicability, good fluidity and high performance, strong and resistant if the parts to be joined are not under critical vibration or impact.

Its exclusive autocleansing features makes the use of flux unnecessary in Copper-Copper joints. Use our FUNDENTE ARGENTA "U" flux in copper with Brass or bronze alloys. SOLDARGEN 100 is not to be used on ferrous materials.
Applications
For Copper-Copper joints, Brass and Bronze. Heat interchange element, water heater, solar cells, copper or silver works, filling of cast parts, pipe sealing. Power generating electric equipment building.
Appearance
Ø 2,0 mm to Ø 5 mm rods. Ask for circular section rods. You will get a faster braze, more rods per kilo and more meters of brazing.